Bully Dog Triple Dog GT™ 40415 Gas Tuner

---
Increase MPG, HP & Torque
Most Gas Engine Cars-Trucks-SUVs

Bully Dog Triple Dog Gauge Tuner (GT) for Gas Engines is our Top-Selling Programmer/Tuner - and for a good reason. The Triple Dog GT is four products in one single unit:
-Vehicle Engine Tuner
-Monitor
-Gauge
-Diagnostic Device
The remarkable GT transforms the utility of your vehicle by increasing horsepower, improving fuel economy, and providing a comprehensive set of monitoring features and diagnostic functions.
---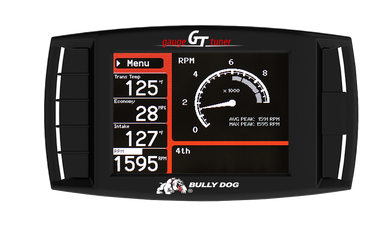 Want outrageous performance down the race track? You got it. Looking for more power up a steep grade? Bully Dog can help. Whatever users' needs may be, Bully Dog provides them with the high quality solutions they need and the "back in your seat" experience they crave.
Bully Dog exceeded themselves with the introduction of the Triple Dog GT. This innovative product is actually four products combined into one sleek, new design. It's a downloader that adds up to 42 HP, a tuner that allows for multiple drive train settings to be tuned and adjusted, a fully customizable gauge pack that monitors four gauge functions at one time and a conscientious Driving Coach. The revolutionary Driving Coach software monitors wasted vehicle energy and then informs the driver how to change their driving habits to increase fuel economy.
The GT is loaded with additional features and the GT Gas works for
Cadillac, Chevrolet/GMC, Dodge, Chrysler, Ford, Infinity, Nissan cars, trucks and SUVs..
---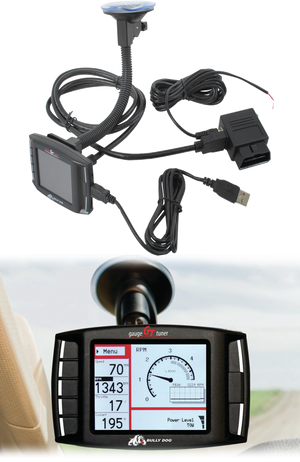 Features:
• Huge Horsepower and Torque Gains
• Improved Engine Efficiency
• Loads of Download Features like Speedometer Calibration
• Display Over 15 Vehicle Parameters (Pids)
• Vehicle Safety Alerts
• Read and Erase Diagnostic Trouble Codes (DTC's)
• Vehicle Performance Testing (Including Drag Tree)
• Exclusive Driving Coach Feature
• Full Color Display with Multiple Color Themes
• User Set Day and Night Driving Modes
• Installation is Easy (10-20 Minutes)
• Internet Updates and Upgrades
---
WHAT YOU WANT...More Power!!
Bully Dog provides the best engine tuning available in a ECM programmer. The best thing about this Bully Dog Triple Dog GT 40415 tuner is that it provides the best tunes available. It will provide power and torque that will truly improve the users driving experience. When you tune a vehicle engine correctly the driver will notice considerable gains that will but the driver further back in their seats throughout the power band. Bully Dog Triple Dog 40415 has constant innovation, turning over new rocks and picking through old tunes to find a better way. This is how Bully Dog makes sure every vehicle they service has the best possible tune.
The chart below documents the difference between a stock 2007 Nissan Titan 5.7L and the same truck tuned with the Bully Dog Triple Dog GT. It's just a sample of the clean, consistent power that comes with the GT.

WHAT YOU GOTTA HAVE...Better Economy!!
It seems like a myth that you can get BETTER MPG AND MORE POWER. And it is, to an extent. The old saying that "you can't have your cake and eat it too" is still true. But at least with the Bully Dog Triple Dog GT, you do now have a choice. The meticulous tuning Bully Dog worked very hard to achieve is a more efficient burn within the cylinder. From that point forward it is entirely up to you.. Put your foot down, and Bully Dog tunes can give you the instant power you have been craving for. Use a feather foot and the same tune can deliver some great fuel mileage (MPG) as well. So Bully Dog ca not state exactly what your mileage gains may be, they can say with a light foot you will definitely increase your MPG. If improved economy is all you're looking for, the GT still offers unmatched features. Not only does Bully Dog make it easy to achieve better MPG, the Triple Dog GT also features exclusive Driving Coach software. The Driving Coach analyzes your vehicle's fuel economy and your personal driving habits in real time, and gives relevant feedback to help you improve those habits. So better economy when you need it, and more power when you want it. This is what we call the best of both worlds!!
---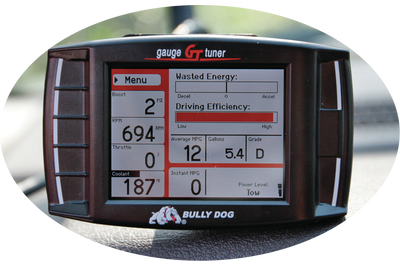 Driving Coach
The Driving Coach is an interactive software program that is included with every GT Diesel. The program provides real time audio and visual feedback to maximize driving efficiency. The screen shot below displays the Driving Coach. For the Driving Coach to be truly effective it must be properly set up.
Performance Testing:
The GT gas performance testing will accurately calculate and record a vehicle's performance data for a variety of tests. The performance testing gives the user the ability to trigger a performance test when the vehicle begins rolling or by using a simulated "christmas tree" that is displayed on screen.

Display and Record Performance Results
Free Performance Analysis Software :
Free performance analysis software for the PC will retrieve performance tests from the GT and allow the user to analyze their performance runs right on their desktop. Analyze speed curves, RPM, horsepower and torque; even get an easily sharable time slip.
---
Purchase The Correct Bully Dog For Your Vehicle:
CADILLAC
02-14 ESCALADE EXV EXT 5.3L 6.0L 6.2L (Click Here)
CHEVROLET
02-14 AVALANCHE 1500 2500 5.3L 6.0L 8.1L (Click Here)
10-13 CAMARO 6.2L V8 (Click Here)
11-14 CRUZE 1.4L T (Click Here)
01-14 EXPRESS VAN 4.8L 5.3L 6.0L 8.1L (Click Here)
99-12 SILVERADO 1500 4.8L 5.3L 6.0L 8.1L (Click Here)
13-14 SILVERADO 1500 4.8L 5.3L 6.2L (Click Here)
01-12 SILVERADO 2500HD 6.0L 8.1L (Click Here)
13-14 SILVERADO 2500HD 6.0L (Click Here)
01-12 SILVERADO 3500HD 6.0L 8.1L (Click Here)
13-14 SILVERADO 3500HD 6.0L (Click Here)
12-14 SONIC 1.4L T (Click Here)
01-11 SUBURBAN 1500 2500 5.3L 6.0L 6.2L 8.1L (Click Here)
12-14 SUBURBAN 1500 2500 5.3L 6.0L 6.2L (Click Here)
01-11 TAHOE 4.8L 5.3L 6.2L (Click Here)
12-14 TAHOE 5.3L 6.2L (Click Here)
CHRYSLER
06-10 300c 5.7L 6.1L V8 (Click Here)
07-09 ASPEN 4.7L 5.7L V8 (Click Here)
DODGE
09-10 CHALLENGER 5.7L 6.1L HEMI V8 (Click Here)
06-10 CHARGER 5.7L 6.1L HEMI V8 (Click Here)
08-10 DAKOTA 4.7L V8 (Click Here)
04-09 DURANGO 4.7L 5.7L HEMI V8 (Click Here)
06-08 MAGNUM 5.7L 6.1L HEMI V8 (Click Here)
03-10 RAM 1500 4.7L 5.7L HEMI V8 (Click Here)
03-10 RAM 2500 5.7L HEMI V8 (Click Here)
03-10 RAM 3500 5.7L HEMI V8 (Click Here)
FORD
05-08 E-SERIES VAN 4.6L 5.4L V8 6.8L V10 (Click Here)
05-05 EXCURSION 5.4L V8 6.8L V10 (Click Here)
05-10 EXPEDITION 5.4L V8 (Click Here)
05-10 EXPLORER 4.6L V8 (Click Here)
11-13 F-150 Eco Boost 3.5L TURBO (Click Here)
11-14 F-150 5.0L V8 (Click Here)
11-14 F-150 6.2L V8 (Click Here)
10-13 F-150 RAPTOR SVT 6.2L V8 (Click Here)
05-10 F-150 4.6L 5.4L V8 (Click Here)
11-14 F-250 6.2L V8 (Click Here)
05-10 F-250 5.4L V8 6.8L V10(Click Here)
11-14 F-350 6.2L V8 (Click Here)
05-10 F-350 5.4L V8 6.8L V10(Click Here)
05-10 MUSTANG 4.0L V6 5.4L V8 (Click Here)
_______________________
---
Assured Automotive brings experience to every single sale we make. We've been in business since 1991 and are always here to help you with your selection. Our friendly, knowledgeable staff members can answer any questions you might have about any item in our inventory. From train horn models to muffler exhaust tip designs, what you see on our web site is in our inventory. This means we can ship it right to your door without delay. In fact, most orders ship in less than a single business day.
It doesn't matter whether you're looking for a train horn, want something musical for your car or just need a loud air horn to customize your ride, you'll find what you're after at Assured Automotive. Our air horns include:
Train horn kits – Our selection of air horns includes a variety of train-quality horns that will not fail to get attention. It doesn't matter whether you're an engineer in need of a better sounding horn or you're just in love with the sound of a train horn, our products will not fail to deliver the sound quality your after. Our train horn packages, like Viair On Board Air Systems, will enable you to shake the ground!
Truck air horns – Want to sound like a big rig? Want blow your buddies away when you pull up? Chances are you need a horn that delivers more power than the Average Joe's. If so, you're in the right place. At Assured Automotive, we offer the air horns you need to make sure others have plenty of time to get out of your way when they need to the most. Our truck air horn line includes a wide variety of products that will get the job done right, including Viair on board air systems that include compressors and tanks. We also offer a wide variety of separates.
Car air horns – We also carry a wide selection of full car air horn kits, including compressors and tanks, and separates. From our 135db plug-n-play horns to full size train horn designs that offer a whopping 152dbs of power, we've got your needs covered for standard cars, SUVs, motorcycles, golf carts and more.

If you're ready to customize your vehicle, you can count on our air horn selection to deliver just the right sound. We offer the highest quality parts at the best wholesale prices, so you can also count on saving without sacrificing performance.
If you've picked out a train horn, car horn or other part, just order conveniently right from our web site. Should you have any questions about our products, just call us at (800) 259-8627. International customers can reach us at (602) 617-5331. We're standing by to help you every weekday from 8:30 a.m. to 4:30 p.m. Pacific Time, except holidays.
We accept all Major Credit Cards.

Our phone hours: 8:00am-5:30pm PAC Monday-Friday.
Enjoy your shopping experience at AssuredAutomotiveCompany.com
Copyright (c) 2017 Assured Automotive Company. All rights reserved.