S&B Filters Cold Air Intakes for Gas & Diesel

Assured Automotive Company, is a full line dealer for S&B Filters Cold Air intake Kits. S&B Filters are made right here in the U.S.A. and everything is in stock in our warehouse. So if you are looking to increase your vehicle power with a S&B Filters Cold Air Intake or with anything else our staff at Assured Automotive is here to lend their knowledge to make your purchase even better.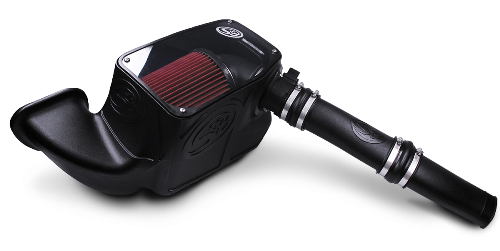 More Cold Air through a vehicle intake means more power and better fuel mileage
S&B Filters Cold Air Intakes allows, depending on your application, anywhere from 40%-65% more air flow. This is a lot better than the competitions cold air intakes. With this kind of air flow, your engine response is greatly improved. S&B Filters engineers incorporate proper bungs in the cold air intake tubes to allow mounting of MAF and other sensors. Perfectly placed to prevent engine lights.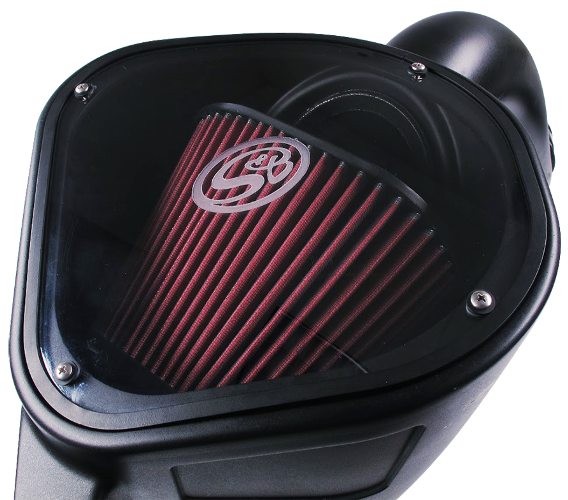 S&B Filters Cold Air Intakes come with clear lids to make maintenance a breeze. You can see the filter and know instantly weather is needs to be replaced or cleaned.
Not only is maintenance easy, so is installing the cold air intake kit. Typical install time is less than an hour. All the kits include easy to follow instructions and some even have videos available.
When you have one of these industry leading S&B Filters installed in your car , truck or SUV you can rest assure that your vehicle has protection of warranty in place. S&B Cold Air Intake assemblies also include a ''Million Mile Warranty" (See Warranty Information Below).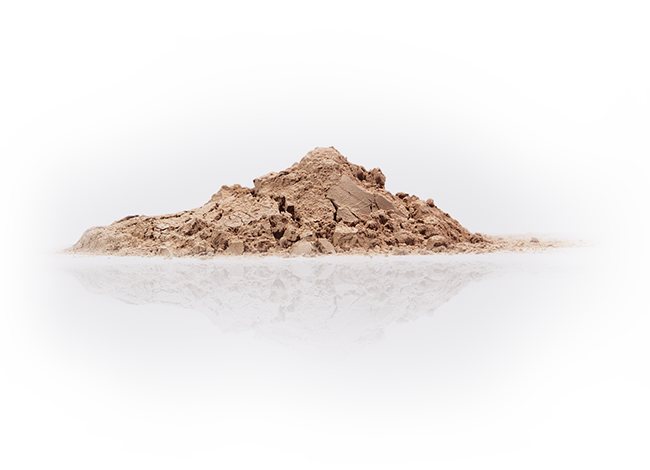 A mountain of dust and our 1/2 million dollar lab is how far S&B has gone to make sure your investment is protected.
S&B tests to the internationally accepted ISO 5011 Standard when testing for airflow, efficiency and capacity. This is the same protocol used by most of the large automakers.
S&B Filters test for efficiency to make sure that your engine is protected from debris while sucking in even more air. Lastly, they monitor the capacity of the filter to see how much dirt it can hold before needing to be serviced. S&B spares nothing when testing filters and intakes, this is how the end user gets a great product!!.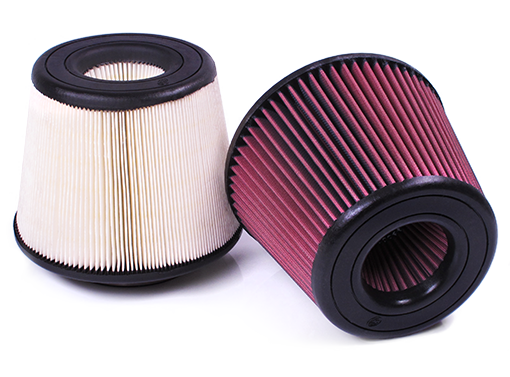 S&B Filters included your S&B Cold Air Intake kit are available with cotton (cleanable) or dry (disposable) filter media.
Both S&B filters offer similar performance characteristics, so the decision comes down to whether you prefer to throw your filter away or clean it after extended use. The cleanable red oiled cotton filter can be cleaned and re-oiled after extended use. We highly recommend using the S&B Filters Cleaning and Oiling Kit. The DRY disposable filter is comparable in performance to the cleanable filter. It also can be cleaned by being blow out with compressed air, but eventually will need to be replaced. The dry filter is ideal for dry, dusty driving conditions. Choosing the filter you want is what separates S&B Filters from the rest.

---
S&B FILTERS MILLION MILE WARRANTY
S&B air filters and intake kits purchased from Authorized Dealers are backed by S&B's Million Mile Limited Warranty when used under typical driving conditions and on vehicles for which they were designed. If one of our products is not performing properly or is defective, S&B will replace it.
What is not covered by the S&B Warranty- If you use an S&B product for (1) any type of racing or competitive event (2) any off-road use, (3) custom or modified product, (4) any industrial or marine applications, and/or (5) any illegal highway use. If an S&B product is not covered by our million mile warranty, our products are still warranted against manufacturing defects for one year from the date of purchase.
Warranty intake Elbows- The warranty period for S&B Intake Elbows is 5-Years. Returns are not accepted once the parts have been installed. S&B DOES NOT RECOMMEND NOR DOES THE WARRANTY COVER CONDITIONS WHERE THE INTAKE ELBOW IS EXPOSED TO INTERNAL PRESSURE IN EXCESS OF 75 POUNDS PER SQUARE INCH (PSI). Email us for actual burst test results. Exposing the Intake Elbow to pressures in excess of 75 PSI could cause the Intake Elbow to leak and/or rupture causing severe damage to your vehicle and/or serious bodily harm including death. Never run more than 5 PSI of pressure through the Intake Elbow with your hood raised. Special care should be taken when running a vehicle on a dyno to protect all personnel from flying debris in the event of a rupture of the part.
Warranty for Competitor Filters (AFE, Banks, K&N, etc.)- S&B warrants that filters made for our competitor's intake kits will meet or exceed the claims made on the specific product page for the filter which was purchased. The S&B Engine Protection Limited Warranty does NOT apply for this category of filters (part #s starting with CR-) as S&B can't be held accountable for a customer's engine damage as this damage could have occurred with the original filter installed and thus prior to using the S&B filter. Replacement of Product- In order to return any product to S&B, an RMA number must be issued. Customer must supply proof of purchase and product must be sent back at customer's cost. Extent of Warranty- If a defective product is properly returned to S&B, it will be replaced. S&B reserves the right to decide as to if the terms of the warranty outlined above have been followed properly. Should S&B decide that the terms of the warranty do not apply, S&B will under no obligation to honor this warranty. Under no condition shall S&B be responsible for any contingent, special, consequential, indirect or other damages.
---
Order from Assured Automotive and you'll discover what customer service is suppose to be. 99% of every automotive upgrade you see on our web site is available in our inventory, which means shipping can take place right away. In fact, the majority of our orders ship in less than a business day.
When it comes to pricing, you can also count on Assured Automotive to deliver. We offer the lowest wholesale pricing available not only to stand out among the competition, but also to help you keep your budget in check.
If you're ready to customize your vehicle with a new exhaust tip look, you couldn't have come to a better place At Assured Automotive, we're here to make your job easier. Just place your order directly through our secured web site or contact us directly at (800) 259-8627. If you're an international customer, you can reach us at (602) 617-5331. We're here to help make your experience with Assured Automotive even better!
We accept all Major Credit Cards.

Our phone hours: 8:00am-5:30pm PAC Monday-Friday.
Enjoy your shopping experience at AssuredAutomotiveCompany.com
Copyright (c) 2018 Assured Automotive Company. All rights reserved.